JL Audio Marine Audio
Marine sound goes high‑end with JL Audio.
JL Audio marine audio products are specifically designed and engineered for the marine environment ensuring the exceptional sound quality retains its clarity season after season.
JL Audio's commitment to U.S. loudspeaker production is unique in the marine audio industry and is central to the quality, durability and consistency of their marine loudspeakers. Materials and components from a global network of suppliers feed JL Audio's state-of-the-art loudspeaker production facility in Miramar, Florida. This is where design engineers, production engineers and production teams work together in one place to deliver a level of quality and performance that separates their products from the rest.
We can advise and tailor a JL Audio marine solution to suit your boat, to provide great audio on the water.
Our professional installation service will ensure your JL Audio system retains its performance for many years of listening enjoyment.
Happy Customers
Looking after your boat with expert advice, quality boat services, repairs and professional installation of world‑class marine and boating products.
Customers recommend us for cost‑effective solutions.
Discover the Evolution Marine difference...
Spend more time on the water

A commitment to great audio
Engineering & manufacturing in USA
MediaMaster source units, Bluetooth receivers and controllers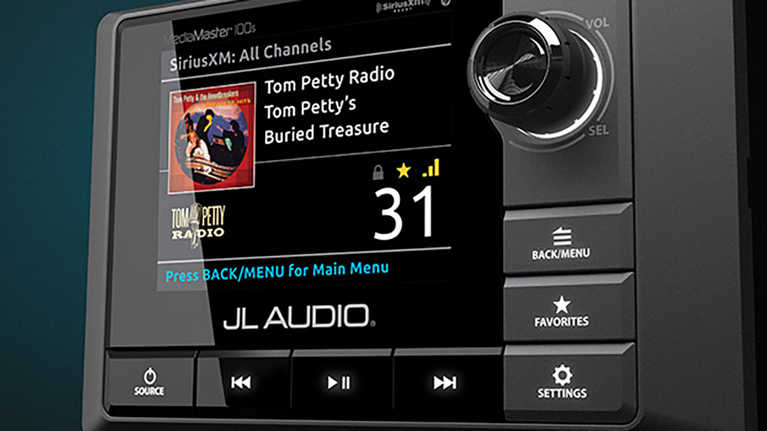 MediaMaster source units
Quality audio begins with a clean signal from a well‑engineered source unit. Our MediaMaster® marine source units are built to withstand the harsh marine environment, while offering connectivity to all your media devices and multiple zone outputs that give you full control of the sound throughout your boat. Each Mediamaster® model features a beautiful high‑brightness, full‑color LCD display designed to be visible in bright sunlight.
Both MM50 and MM100s‑BE models feature weatherproof construction (IP66 rated) with oversized controls and customizable, full‑color LCD displays.
The MMR-40 control unit is a NMEA 2000® network controller designed to add full‑function, auxiliary control to MediaMaster® source units.
Enjoying great sound on the water has never been easier or sound better, thanks to the family of MediaMaster® source units.
Your playlists will sound amazing!
MediaMaster MM50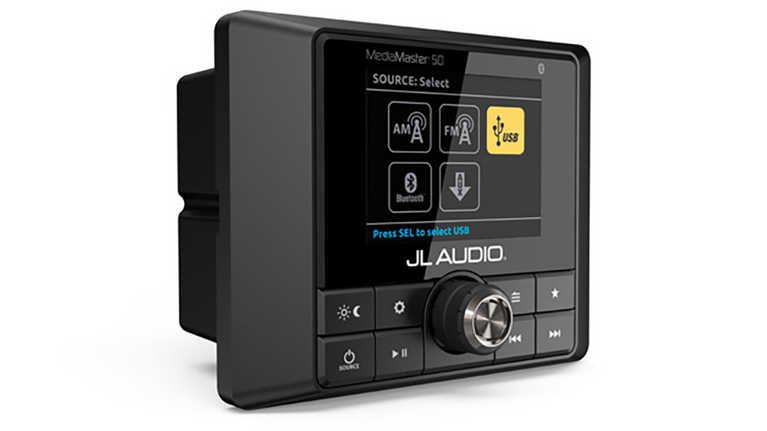 The MediaMaster® 50 is a high‑performance, single‑chassis, powered source unit, engineered to deliver outstanding fidelity and advanced audio features on your boat.
Weatherproof (IP66 rated) design and construction
Easy-to-use, large controls
2.8-inch full‑color LCD display, with separate day/night lighting themes
Digital AM/FM tuner
Bluetooth® connectivity, a USB connection for a USB drive or iPhone® and an Analog AUX input
Audio output options include a rock‑solid, onboard amplifier, capable of powering your speakers with...
100 watts (25W RMS x 4 @ 4 ohms)
Six channels of audiophile‑quality preamp outputs
Two independent main zones
Dedicated subwoofer zone
Each zone has its own flexible audio options and is controlled by a configurable master volume knob for quick, on‑the‑fly level adjustments, giving you complete command of volume levels in different areas of your boat.
With certified NMEA‑2000® connectivity, the MM50 also offers control functionality using your Simrad Multifunction Display.
MediaMaster MM100s-BE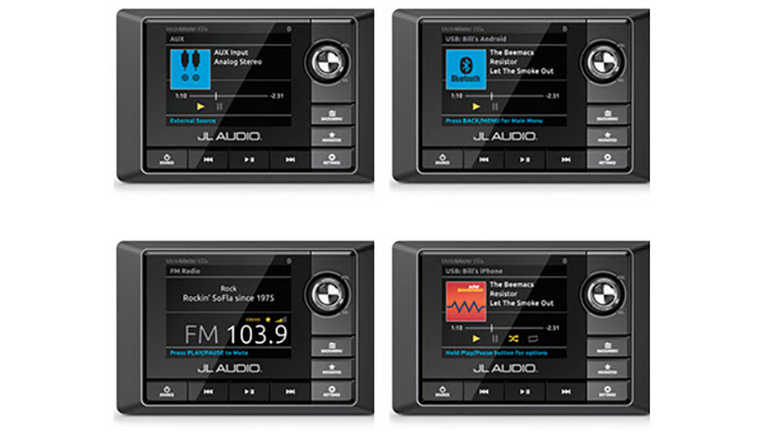 The MediaMaster® 100s‑BE premium source unit offers superb audio performance, excellent ergonomics and advanced audio features, specifically designed for marine applications. Stylish and feature packed ready to deliver your favourite music across all maritime conditions.
Engineered for real‑world marine duty
Weatherproof (IP66 rated) design and construction
Easy-to-use, large controls
3.5-inch full‑color LCD display with separate day/night lighting modes
Flexible zone controls tailored for marine audio system configurations
8-channels of audiophile quality, 4V RMS preamp level outputs
4 separate audio zones with independent feature/control options
AM/FM tuner with NOAA weather band capability
Bluetooth® with aptX® codec streams top‑quality audio from compatible devices
Certified NMEA‑2000® connectivity for control functionality using your Simrad Multifunction Display
The MediaMaster 100s is a a premium, single‑chassis weatherproof marine source unit.
MMR-40 NMEA 2000® Network Controller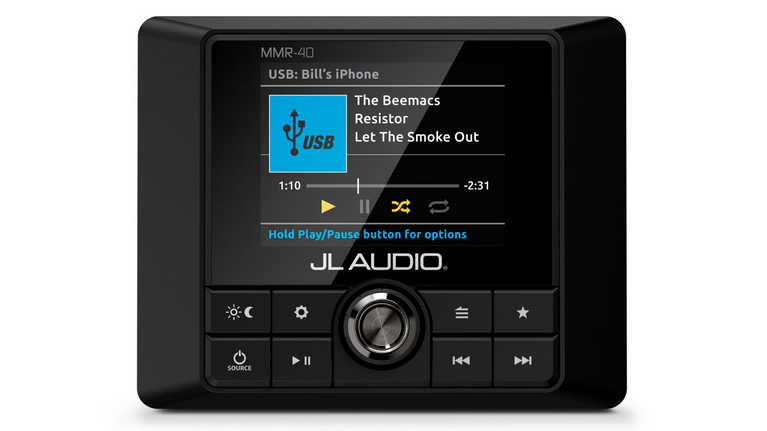 The MMR-40 is a NMEA 2000® Network Controller engineered to add full‑function, auxiliary control to MediaMaster® source units.
Outfitted with a NMEA 2000® Micro‑C connector, the MMR‑40 connects to a host MediaMaster® source unit in two ways:
Direct interface with a vessel's NMEA 2000® network using applicable NMEA 2000® cables and connectors
Direct connection of one MMR‑40 with one host MediaMaster® source unit using MMC‑PN2K powered network cables to simulate an isolated, stand‑alone NMEA 2000® network
Once connected, the MMR‑40 automatically recognizes the host MediaMaster® source unit and will then mirror all host source unit controls and screen info onto the MMR‑40's full‑color, 2.8‑inch LCD display, resulting in a complete MediaMaster® user experience.
The MMR-40 is equipped with independent display theme and lighting controls for maximum mounting location flexibility, regardless of the settings on the host source unit. Engineered for real‑world marine (and many outdoor) applications, its weatherproof (IP66 rated) chassis is built to withstand the harshest environments.
The MMR-40 includes the following features:
NMEA 2000® Certified (LEN 4)
Easy-to-read, high‑brightness, 2.8‑inch full‑color LCD display with large backlit controls
Independent day/night display themes and lighting controls
IP66 rated for real marine duty
Protective Sun Cover included
Note: The MMR‑40 is not a stand‑alone receiver and does not function without a connected MediaMaster® source unit. All remote control functionality of the MMR‑40 is solely derived from the host source unit. Functionality of the MMR‑40 requires connection to a NMEA 2000® network or use of MMC‑PN2K powered network cables.
LEARN MORE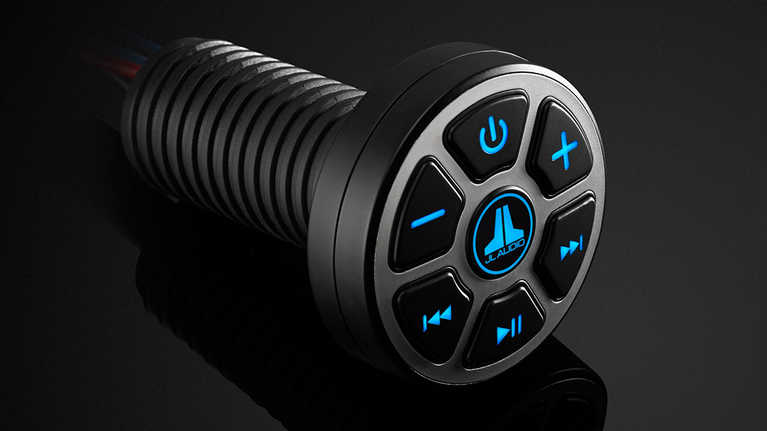 Bluetooth receivers and controllers
Hit the open water and take your playlist with you.
With JL Audio's Bluetooth® receivers, you can wirelessly stream audio from your Bluetooth® equipped device to your boat's audio system.
With Bluetooth® v4.0 and the aptX® codec for outstanding audio fidelity, MBT units can receive audio wirelessly from a compatible streaming device, located up to 11 metres away. A stereo pair of 2 volt RCA outputs connects to any amplifier or source unit with line‑level/auxiliary inputs.
MBT-CRXv2 Bluetooth® Audio Controller / Receiver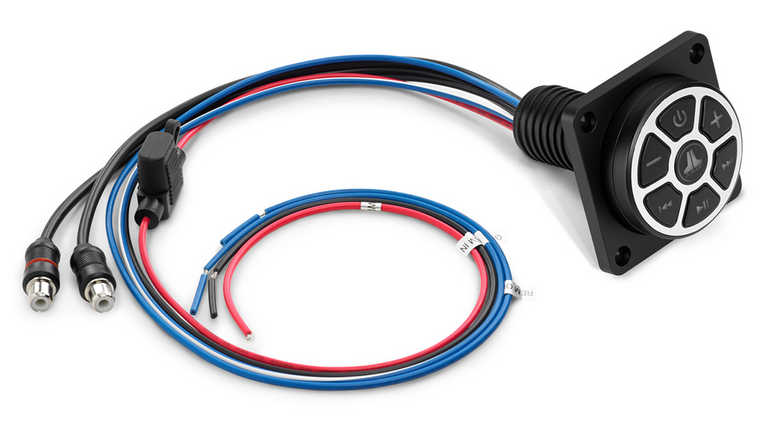 Use the versatile MBT‑CRXv2 to add Bluetooth connectivity to any source unit with an auxiliary input or connect directly to an amplifier and use it as a stand‑alone source unit/receiver.
The MBT-CRX adds the convenience of backlit, push‑button audio controls, so that the streaming device can remain safely tucked away, acting as the hard drive while the MBT‑CRX controls the sound output.
MBT-RX Bluetooth® Audio Receiver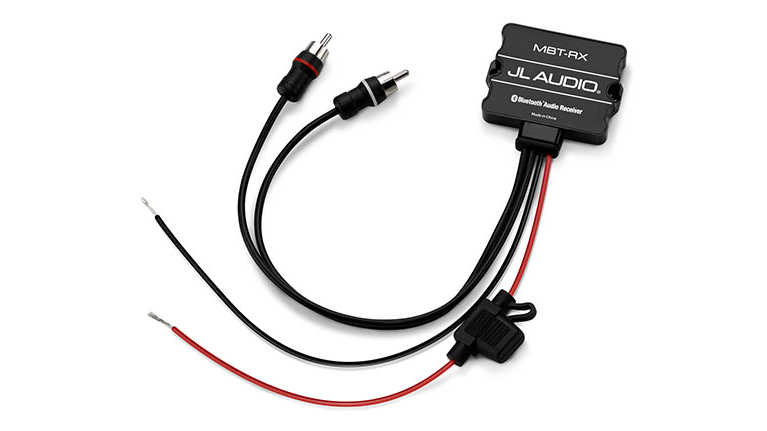 Designed for marine and powersports applications, the MBT‑RX streams your favorite tunes from a Bluetooth® equipped (A2DP) device directly to your audio system.
With an IPX6 water resistance rating, this premium wireless audio receiver is engineered with a super tiny design to fit into just about any installation location, allowing you to conveniently control your tunes from your device in‑hand.
Use the stereo pair of RCA outputs to connect to any amplifier or source unit with line‑level/auxiliary inputs.
LEARN MORE
Marine Amplifiers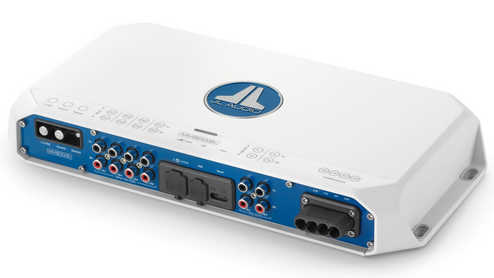 MVi Marine Amplifiers
Reference-grade marine amplifiers with integrated DSP.
MVi amplifiers usher in a totally new level of marine audio performance, with all‑new amplifier circuits and amazing on‑board tuning capabilities.
Each MVi model is packed with a very complete package of digital signal processing (DSP), including EQ, Delay, Crossover Signal Routing, Mixing and lots more. Instead of using traditional control knobs and switches, MVi amplifiers are configured using JL Audio's free TüN™ software on a compatible computer, tablet or smartphone. While operating the boat, stored DSP presets can be recalled at the push of a button using the optional M‑DRC‑50 controller, allowing you to instantly adjust the audio system's tuning to suit different activities.
MVi amplifiers and their companion MV subwoofer amplifiers are built for years of reliable marine service, featuring a unitary cast alloy chassis with a marine‑grade powder coat finish and corrosion‑resistant hardware and connectors.
When only the best will do, MVi is your marine amplifier.
LEARN MORE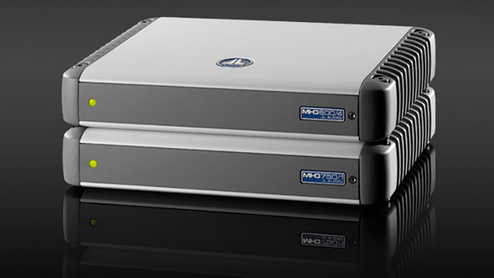 MHD Marine Amplifiers
Maximum marine audio performance requires ample clean power, and our MHD amplifiers are built to deliver it.
The MHD's central technology, SingleCycle Control™, allows us to pack a huge amount of clean power into the compact MHD chassis, while delivering stellar installation flexibility. But, that is only half the story: Single Cycle Control™ and our famous R.I.P.S power supply technology enable world‑class sonic performance that equals the finest amplifiers, of any size, while operating reliably in the tough marine environment. These are unique JL Audio technologies that cannot be found on any other marine amplifier.
LEARN MORE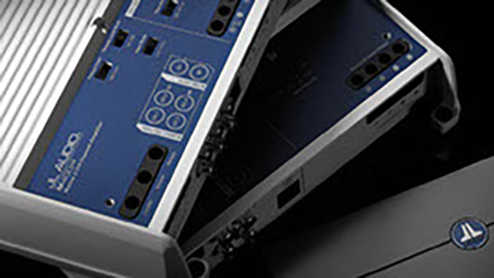 M-Series Marine Amplifiers
M-Series amplifiers are engineered to deliver stunning power output with incredible efficiency.
At the heart of each M‑Series amp is JL Audio's exclusive NexD™ switching technology, designed to achieve total amplifier efficiencies exceeding 80%. This efficiency advantage results in much less heat, reducing heat‑sink size requirements and making M‑Series amplifiers ideal for space‑conscious installations. Their reduced current draw also makes them much kinder to your boat's electrical system than conventional amplifiers of similar power.
Some might just see a small amplifier... But, for those who appreciate great audio, M‑Series amplifiers reveal something huge.
LEARN MORE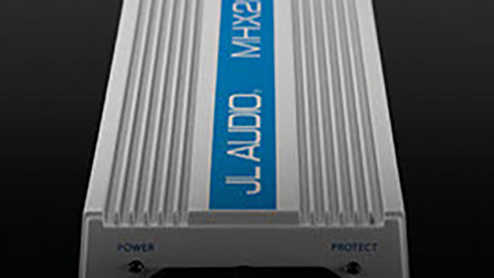 MX Marine Amplifiers
Employing JL Audio's highly‑efficient NexD™ technology, MX amplifiers are built to generate loads of clean power, without straining small charging systems.
Developed specifically for marine and powersports applications, MX amps are encased in tiny, cast aluminum chassis, with an IPX7 water resistance rating, making them great for installations in boats and small watercraft. Onboard filters and signal processing allow easy set‑up and system flexibility.
No matter where you like to play, MX amplifiers are ready to power your soundtrack for maximum thrills!
LEARN MORE

Hear our commitment
High performance marine loudspeakers
Marine Loudspeakers and Subwoofers
High Performance Marine Loudspeakers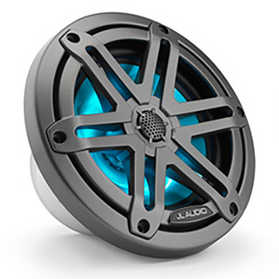 M3 Marine Loudspeakers
Made from marine-grade materials and optimised for moderate power systems.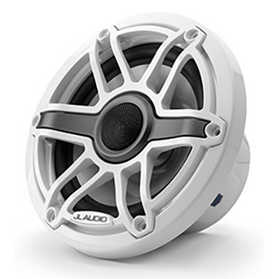 M6 Marine Loudspeakers
More bass, high sound output and clarity at high volume levels.
M3 and M6 Marine Loudspeakers
JL Audio's reputation as a leader in marine audio was built on the quality of our marine loudspeakers. We build them with the most durable materials and assemble all of them with precision in our Miramar, Florida factory to withstand real marine duty. JL Audio offers two series of marine speaker systems: M3 and M6.
The M3 handily outperforms conventional marine speakers and is sized to work as a direct replacement for them.
M6 speakers are maximum‑performance, no‑holds‑barred speaker systems with higher power handling, a larger tweeter and greater output capability.
Both series are available with, or without RGB lighting.
High Performance
The JL Audio team knows what is demanded of a speaker out on the water and through its experienced engineers and designers has created a speaker that sounds simply phenomenal. Knowing there will be severe high frequency cancellation due to the abundance of environmental noises such as wind, waves, engines or sails, JL Audio voice all of its marine speakers more aggressively than they do a car speaker. This allows the speaker to perform as if there were no noise obstacles to deal with, providing complete clarity and depth.
Sound Quality
It is not just the output potential that is important when designing a speaker, the projection and dispersion paths can be equally important. As well as speakers designed for listening on board, JL Audio also manufactures sports boat speakers which can be enjoyed behind the boat when swimming, wake boarding or water skiing. They therefore need to be able to project far enough and wide enough for someone riding the wake to be able to hear and enjoy. When developing the M6-880X coaxial speakers the goal was to find a combination of distance and width without compromising the sound quality. The resultant speaker has been described as "in a class of its own".
Industry Leading Testing
JL Audio does not test its products on a soundboard like many of its competitors; all speakers at the prototype stage are tested out on the water. Products go through stringent moisture, salt, fog, thermal and UV testing as well as humidity testing with a range of 10% to 98%. Each component is individually tested and then tested again in various pairings until the best combination of materials is selected to ensure longevity onboard without compromising sonic performance.
Thermal testing ensures plastic based materials and adhesives will not crack or weaken during sudden temperature changes, such as a speaker sitting in the hot sun then getting splashed with cold water.
UV testing means plastic parts don't fade or weaken after prolonged sun exposure, while moisture testing checks the impact of salt water, or salt air, on corrosion as well as the overall reliability after getting wet.
High Performance Marine Subwoofers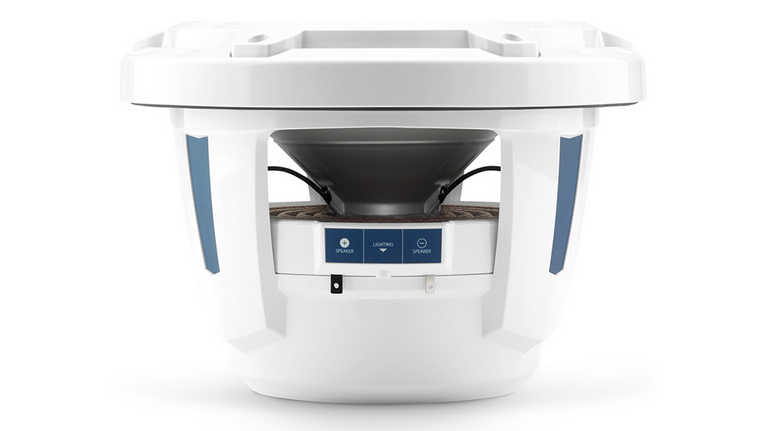 At JL Audio, subwoofers are serious business and an essential part of our formula for great marine audio. A running powerboat produces a huge amount of low frequency noise, which is impossible for small full‑range speakers to overcome. Adding a subwoofer not only gives you vastly better low‑frequency output—it will help your whole system sound cleaner and louder, too.
The addition of a marine subwoofer on board your boat will make your whole system sound complete, with greater depth of sound, clarity and bass. JL AUDIO's maximum performance marine subwoofers deliver exceptional bass that will impress not only with its sheer level, but even more with its smoothness, balance and precision.
But it's not just about the bass; a properly implemented subwoofer system relieves the main speakers from the stress of having to reproduce the lowest frequencies in your music. Free from this burden, they can play louder and cleaner, giving you far better overall audio performance.
M3 Marine Speakers and Subwoofers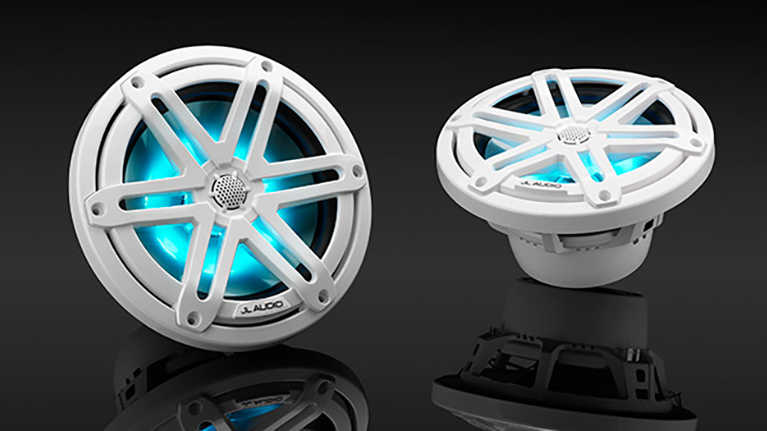 M3 Marine Speakers
Because you expect great performance and top quality when you choose JL Audio for your marine audio system, our speakers use marine grade materials to ensure outstanding longevity in real-world boating use. Most importantly, our fanatical approach to sound quality is in full effect, optimized for moderate power systems.
M3 marine speaker systems are available in a wide range of colour and grille style combinations. Select models are available with multi-colour cone illumination, so you can add some visual highlights to your boat to go along with the great audio performance.
M3-650X Coaxial Speakers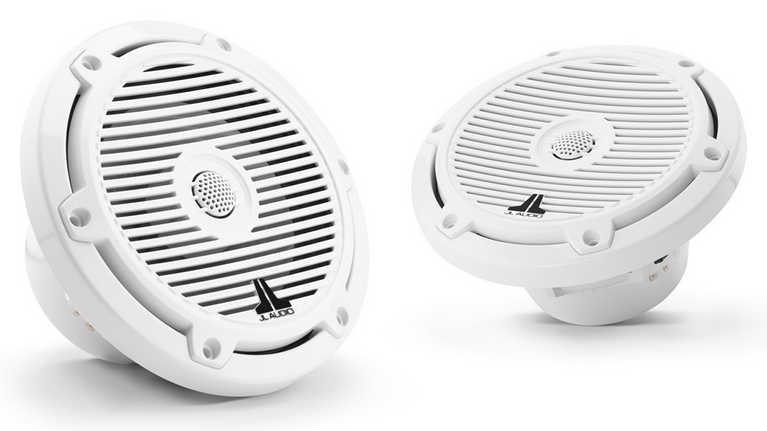 Purpose-engineered and built for real marine duty, M3 coaxial systems deliver excellent performance at a more affordable price than our maximum-performance M6 models.
The M3-650X 6.5-inch coaxial speaker is designed around the standard marine 6.5-inch speaker format and features a wide mounting flange with a four hole mounting pattern.
M3-770X Coaxial Speakers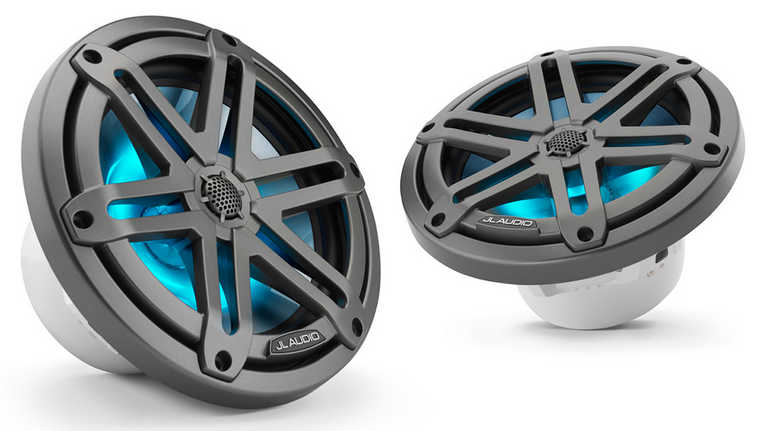 The oversized 7.7-inch design of the M3-770X results in increased efficiency (more output for a given amount of power). This gives them the ability to play louder and cleaner at high volumes than smaller speakers.
LEARN MORE
M3 Marine Subwoofers
The M3 Marine Subwoofers are the affordable alternative for those who value great bass performance in their boat. Designed by the same team and built on the same U.S. production line as the more expensive M6 Marine Subwoofer Drivers, they deliver outstanding sub-bass performance in moderate power applications.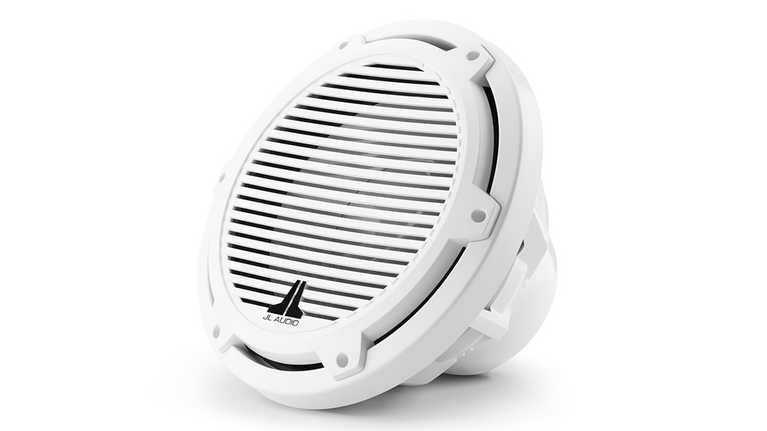 The M3-10IB is designed for infinite-baffle operation so that it can be installed in a variety of locations, without the need for a dedicated enclosure.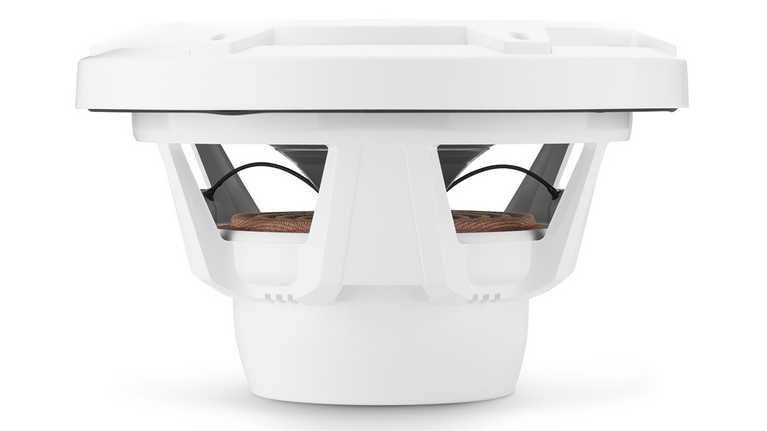 LEARN MORE
M6 Marine Speakers and M6/M7 Subwoofers
M6 Marine Speakers
M6 marine speakers are designed to deliver a powerful and smooth sound in open-air boat environments. The M6 speaker systems are available in a wide range of beautiful looks. Choose from classic or sport grille systems, white or titanium colour schemes, and speaker sizes.
M6-650X Coaxial Speakers
The M6-650X is our maximum performance speaker for traditional marine 6.5-inch mounting locations, allowing you to easily upgrade standard speakers on a wide range of boats.
M6-770X Coaxial Speakers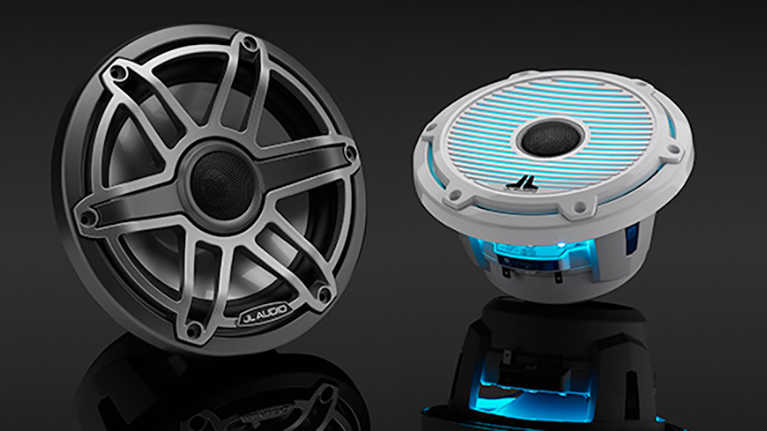 For an extra sonic edge, consider our oversized, 7.7-inch diameter coaxial M6. It delivers more bass, higher output and better clarity at high volume levels than 6.5-inch speakers, thanks to 20% more sound radiating area and a larger tweeter.
M6-880X Coaxial Speakers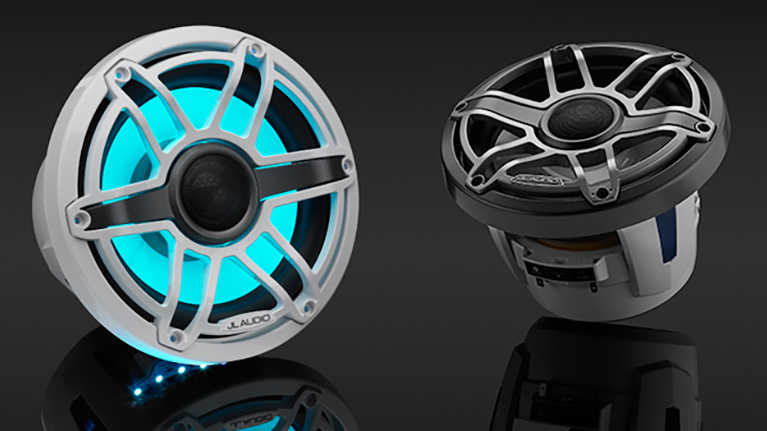 For those who believe that there is no such thing as "too much of a good thing," our massive 8.8-inch coaxials deliver a giant performance leap, even surpassing the output and low-frequency capabilities of our very capable 7.7-inch models.
LEARN MORE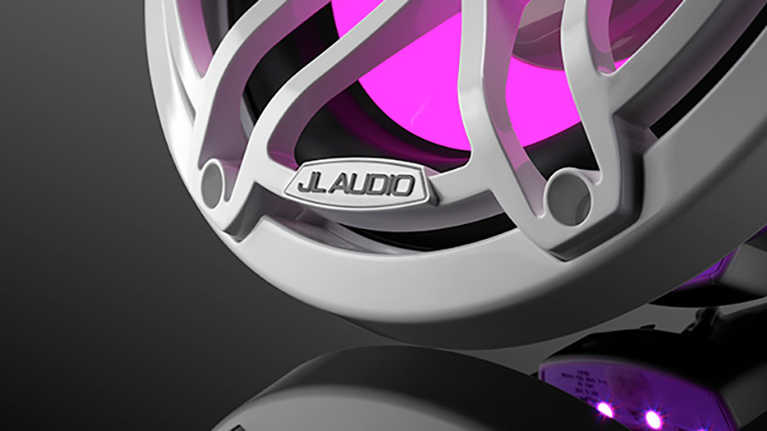 M6 Marine Subwoofers
JL Audio M6 marine subwoofer drivers benefit from the same technological base that has produced the world's finest home and automotive subwoofers.
They have been designed with the aid of our most advanced modelling technologies and are built with fanatical attention to detail in our Miramar, Florida factory to withstand years of duty in a true marine environment.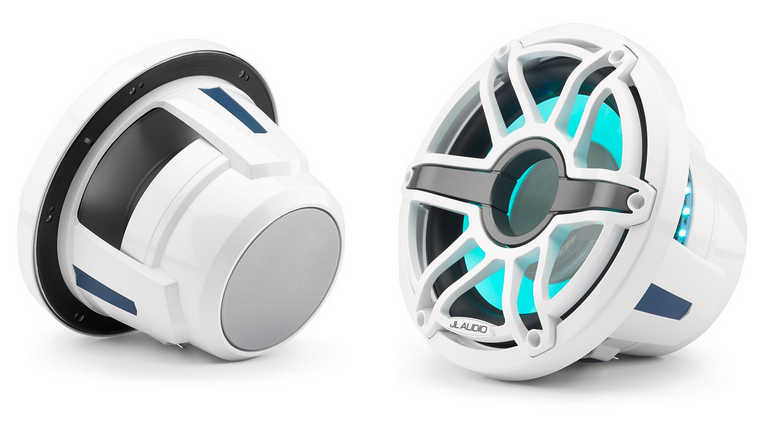 To achieve the best low-frequency performance in real-world, open-air marine environments, you need a specialized subwoofer driver. This is why we offer the M6 marine subwoofers in two distinct versions:
Infinite Baffle Subwoofers
Subwoofers for Enclosures
Infinite Baffle Subwoofers can be installed in a variety of locations, without the need for dedicated enclosure.
Subwoofers for Enclosures feature extremely long linear excursion capability for outstanding output and low-distortion performance. They are available as raw drivers or pre-loaded in a 100% fiberglass enclosures, precisely tuned to extract optimum performance.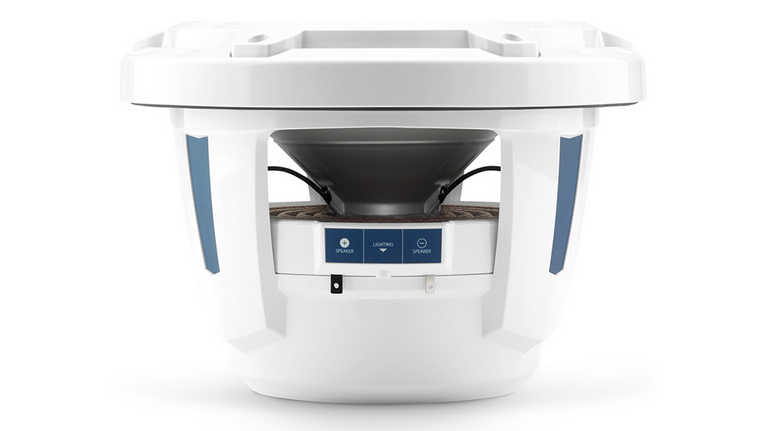 LEARN MORE
M7 Marine Subwoofers
When JL Audio puts the number "7" in a speaker's model series, you can be sure it is something very special. M7's are extreme subwoofers, with oversized, overbuilt components and very powerful motor systems. They are optimized for high‑power, infinite baffle operation and require special attention to the mounting surface to perform at their peak.
M7 is available with (or without) our patented Transflective™ RGB lighting technology, in Sport or Classic grille styles, and in white or gunmetal/titanium finishes.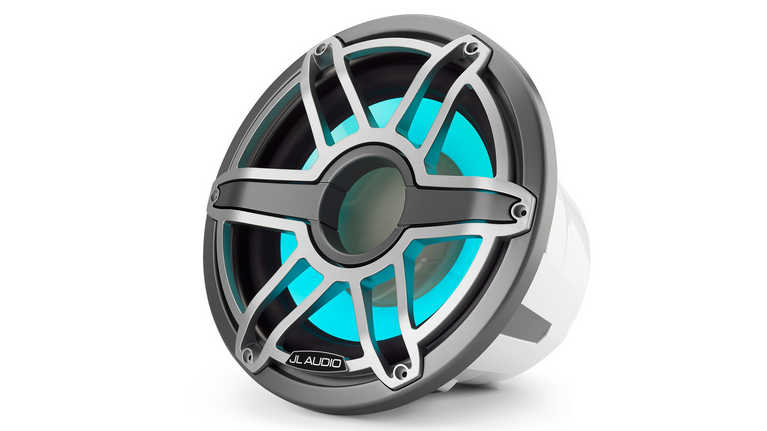 12-inch (300 mm) Marine Subwoofer Driver with Transflective™ LED Lighting, Gunmetal Trim Ring, Titanium Sport Grille, 4 Ω
Engineered as the reference standard for marine subwoofer performance, the M7‑12IB is capable of producing staggering amounts of jaw‑dropping bass in infinite‑baffle applications.
Built to withstand real‑world marine duty, this M7‑12IB is designed to operate without a dedicated enclosure. It boasts a monstrous 4‑inch voice coil and rugged suspension system to deliver outstanding linear excursion for high output and power handling.
The patent‑pending Transflective™ RGB LED technology emits a smooth lighting effect through the woofer cone, with a choice of several lighting colors. Add an optional RGB controller to create thousands of color variations. Professional installation is strongly recommended.
M7-12IB is best used with amplifier power in the 200W – 600W range and is optimized to operate with a large volume of air behind it (at least 3 cu. ft. / 84.95 l).
Like all JL Audio marine speakers, this driver is built to withstand a real saltwater marine environment and deliver years of listening enjoyment.
LEARN MORE

Every journey has a soundtrack
Lets make yours sound amazing
Expert Installation, More Information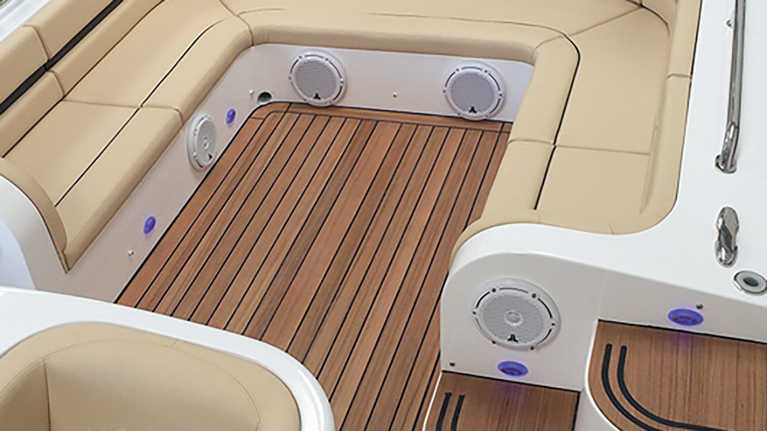 Expert Installation
Evolution Marine can advise you on a JL Audio marine solution to suit your boat. Our expert installation service will ensure many years of great sound.
Visit Evolution Marine for expert advice.
VISIT NOW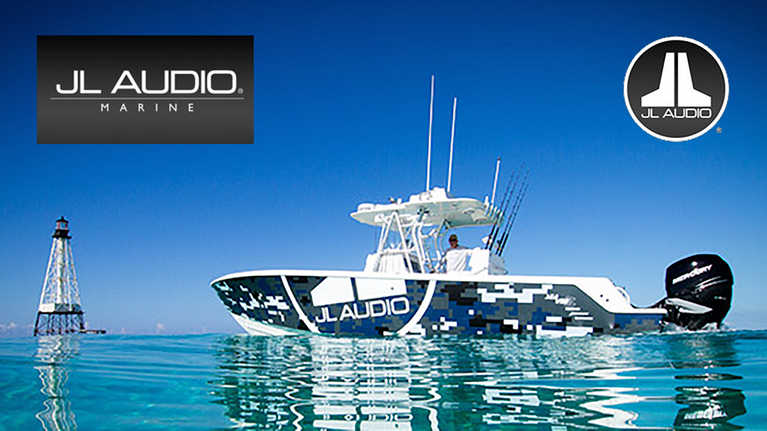 More Information
For more information visit the JL Audio marine website, download the catalogue, visit Facebook or browse YouTube videos.