Simrad marine & boating electronics
Go with confidence with Simrad marine & boating electronics.
Since 1946 Simrad has been designing and providing specialist marine electronics for navigation, instrumentation and fishfinding equipment.
Professional level products with quality and reliability for the recreational and commercial marine sectors.
Solutions for navigation, fishfinding, communication, engine data, instrumentation, entertainment, smart boat and connected vessel. System integration by industry‑wide standards and ease of use are standout features of the range. All designed to enhance your safety on the water.
Evolution Marine can tailor a Simrad solution to give you confidence on the water, whatever your requirements.
Our professional installation service ensures your Simrad system performs reliably with ease of use and provides many years of boating enjoyment.
Happy Customers
Looking after your boat with expert advice, quality boat services, repairs and professional installation of world‑class marine and boating products.
Customers recommend us for cost‑effective solutions.
Discover the Evolution Marine difference...
Spend more time on the water
Multi-function Display Navigation Systems
Radar, Autopilots
Communications, Instruments, Audio
Echosounders
Boat Systems, About Simrad
More...

Go with confidence
Simrad marine & boating electronics
Multi-function Display Navigation, Fishfinders, Chartplotters
Simrad multifunction displays combine powerful fish‑finding sonar technology with the GPS chartplotter navigation features you need to plan trips and find your way on the water. Our fishfinders offer dedicated sonar displays, perfect for amateur anglers and offshore sportfishing pros.
Easy to use, simple to customize
Marine electronics to enhance your every moment on the water. Intuitive displays that are easy to use from the moment you step onboard, and simple to customize to suit your boating lifestyle.
More functionality, more support
Built with more functionality at the factory and supported with onboard upgrades to give you the greatest value for your boating budget. Cruise in unparalleled comfort, extend your horizons or tackle the big offshore game. Whatever your ultimate destination, the gear you need to get there.
Take control of your on-water experience
Take total control of your on-water experience with Simrad multifunction displays. Products for everyone from casual, weekend boaters to powerboating and sportfishing pros.
Choose from NSS evo3S, NSO evo3S, GO Series and Cruise.
YOUR CHOICE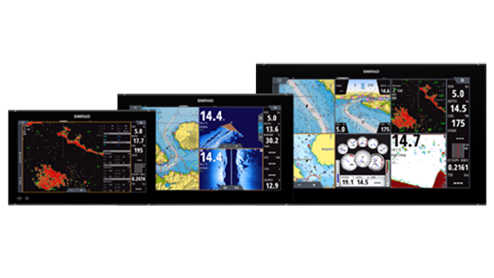 NSO evo3S
Complete your ideal boat with the NSO evo3S, the ultimate navigation system.
NSO evo3S gives you total control - state of the art processing power, delivered by the new iMX 8 high‑performance processor, and intuitive touchscreen and remote keypad controls. Experience rapid responses to your every command in Full HD clarity!
NSO evo3S is available as integrated displays/processors and modular systems.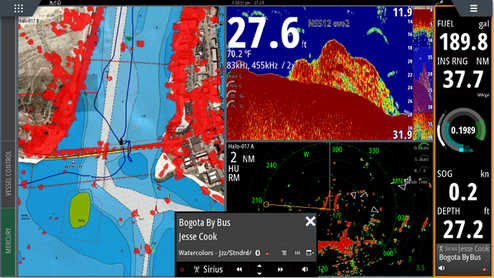 NSO evo3S Integrated Display
Build your ultimate navigation system around NSO evo3S. The new iMX 8 high‑performance processor ensures rapid responses to your every command, while the Full HD display gives you stunning clarity. Connect with GPS, radar, sonar, keypads and other accessories to create your ideal vessel‑wide system.
NSO evo3S integrated display available in 16, 19 and 24 inch screen sizes.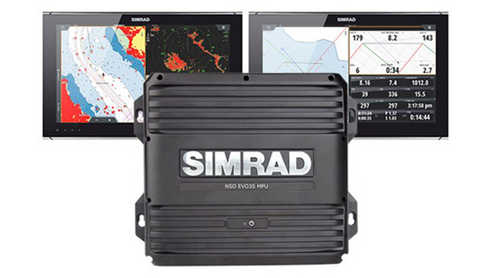 NSO evo3S Processor
The NSO evo3S marine processor is a compact 'black box' solution containing two six‑core processors and the connectivity options needed to integrate and expand your system vessel‑wide.
Glass‑bridge navigation systems
Build a tailored, multi‑display system that is perfect for you and your boat with the modular NSO evo3S system.
LEARN MORE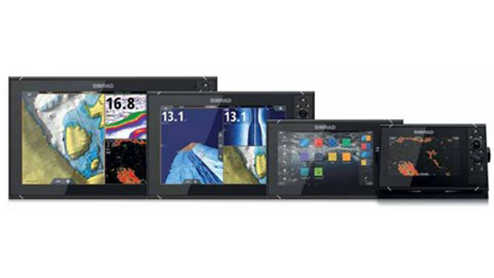 NSS evo3S
Navigate, find fish, and take total control of your on‑water experience. NSS evo3S is perfect for larger powerboats, giving you ultimate visibility and control from the helm while letting you take that view anywhere on board with wireless display mirroring.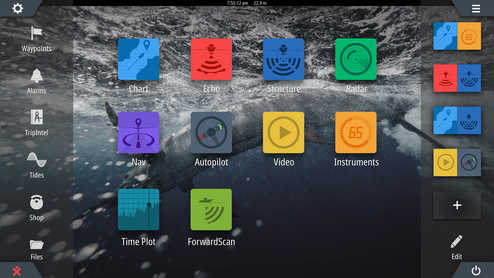 High-Definition all weather displays
SolarMAX™ IPS displays ensure clear views in any conditions - visible even through polarized sunglasses. Combine all‑weather touchscreen and keypad for total control in all conditions.
Fast & simple networking
Extensive system expansion with real‑time monitoring and control delivered through the new iMX 8 high‑performance processor - from engine and fuel monitoring, VHF radio, and advanced fish‑finding tools to legendary HALO™ Pulse Compression radar, and a fully integrated Simrad autopilot.
Better fishing
Built-in high performance echosounder with 1kW CHIRP‑enabled sonar capable of exceptional bottom‑tracking and fish‑finding performance. SideScan and DownScan Imaging™ boosted by StructureScan 3D, ActiveImaging™ for picture‑like views of fish‑holding structure, crystal clear views of the bottom ahead using ForwardScan® sonar, or performance sportfishing with the deep water S5100 Sonar.
Easy app integration
The Simrad App link‑up - from device registration and manual downloads to saving waypoints and favourite fishing spots – provides accessibility both on and off the water.
Better user experience
Increased monitoring and control within the existing page - instant Chart orientation changes at the touch of a button, expandable Audio side bar, and a Tide Graph in the instrument bar to monitor tide changes.
NSS evo3S available in 7, 9, 12 and 16 inch screen sizes.
LEARN MORE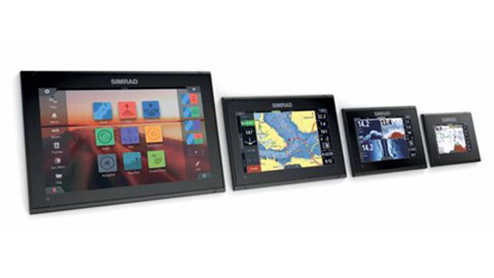 GO Series
Simrad GO series displays are a perfect addition to sportboats, dayboats, and centre‑consoles. Behind every sunlight‑viewable GO series touchscreen lies a built‑in GPS receiver, echosounder, wireless connectivity, and industry‑standard NMEA 2000® networking.
Navigate, connect with mobile devices, control accessories like your on‑board sound system, and choose from an array of built‑in sonar. Radar capability, on GO7 and above, offers added safety and fishfinding functionality.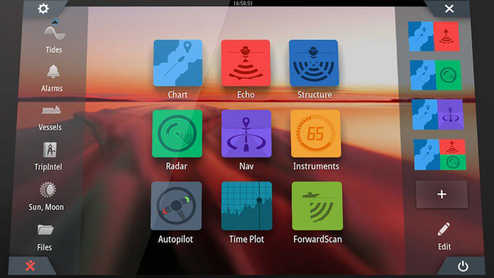 Multi-touch display for intuitive, tablet‑style control
Customize your home screen with the features you use most, and see everything you need on‑screen at once with adjustable split‑screen views. Mark waypoints on charts with a touch, and easily assign meaningful names and symbols that make them quick to find when you are planning your next trip.
Wireless and wired connectivity
Built-in wireless connectivity mirrors your display to a compatible smartphone or tablet, giving you instant access to charts, radar and other functionality from anywhere onboard.
NMEA 2000® connectivity offers a wide range of integration options: monitor your boat's engine performance and fuel efficiency, steer your boat with a Simrad autopilot or control your onboard entertainment system from your GO series display.
Find fish and track depth
Choose from a wide range of sonar options from CHIRP or traditional sonar transducers for a classic fish‑finder view, or get all your fish‑finding sonar in one transducer with Active Imaging 3‑in‑1.
Active Imaging brings the world‑class clarity and target separation of CHIRP Sonar, plus incredible detail of reefs, drop‑offs and wrecks from SideScan and DownScan Imaging™.
GO Series available in 5, 7, 9 and 12 inch screen sizes.
LEARN MORE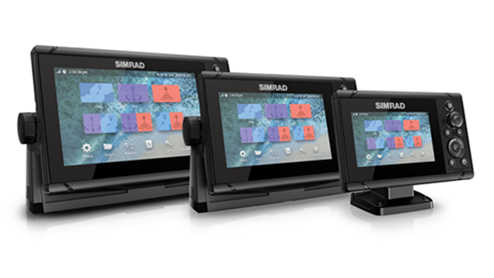 Cruise
Simrad® Cruise is the most intuitive, easy‑to‑use chartplotter available. Everything you need for simple and straightforward GPS navigation - sunlight viewable display with Aus/NZ Navionics+ chart, mounting bracket and sonar transducer.
Smooth Navigation Between Menus
Rotary dial and keypad controls make navigating through menus, creating routes and accessing temperature, speed, depth readings and battery voltage effortless.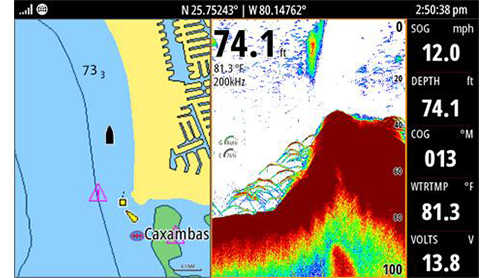 Everything in view
See the details you want the way you want them! Simrad Cruise offers both full and split‑screen views, so you can easily display the information you need. Plotting your course? Select full screen charts for a maximum view of your surroundings. Not sure what's underneath you? Choose full screen sonar for a clear view of the bottom and automatic depth tracking. Want to see it all? Use the split‑screen option for the perfect combination of chart and sonar data.
Stay informed
Simrad Cruise gives you access to the information you need for a safe and enjoyable time on the water. Depth readings, position, battery voltage and other critical boat information, can all be monitored on your screen for quick reference and situational awareness.
Cruise range available in 5, 7 and 9 inch screen sizes.
LEARN MORE
HALO Radar, Autopilots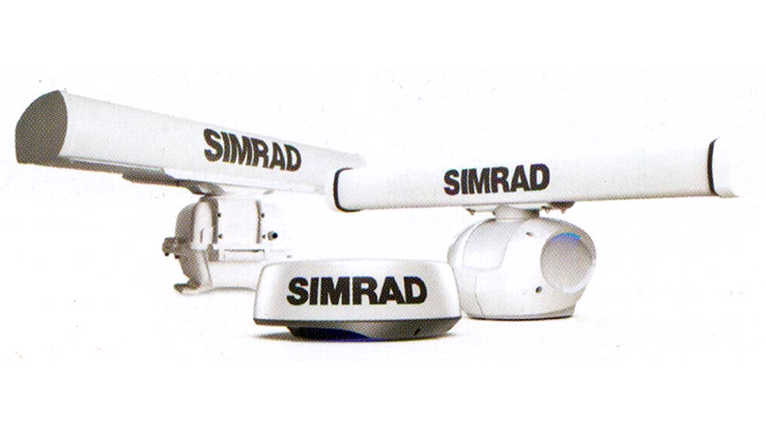 HALO Dome Radar
Simrad Halo™ radar makes it easier than ever to navigate safely through crowded waters or poor visibility, keep an eye on the weather for distant storm cells, and on Halo24/Halo20+ find flocks of feeding birds that mark the best waters to fish.
Solid-state Pulse Compression technology lets you see both near and far at the same time, on a single screen, from a single Halo radar.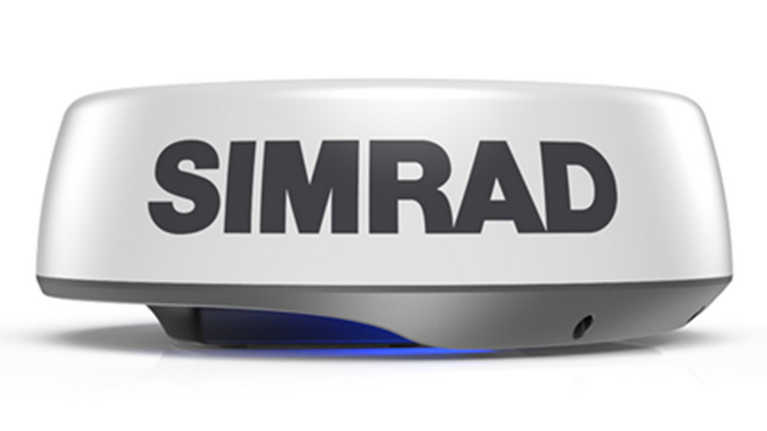 HALO™24 and HALO20+ Radar
HALO24/HALO20+ deliver the ultimate in situational awareness.
Revolutionary HALO24 and HALO20+ pulse compression dome radars deliver industry‑leading 360‑degree sweeps every second at close range, for the ultimate in collision avoidance of stationary and fast‑moving targets. With high‑quality short, mid and long‑range detection, these feature‑packed dome antennas ensure targets can be seen vividly - even in the toughest environmental conditions.
VelocityTrack™
VelocityTrack™ Doppler technology clearly distinguishes hazardous targets from their surroundings by vividly marking them as hazardous on the radar display.
MARPA target tracking
MARPA target tracking – simultaneous short, mid and long‑range detection of multiple objects.
Pulse Compression
Pulse Compression Technology – ultra‑fast updates every second.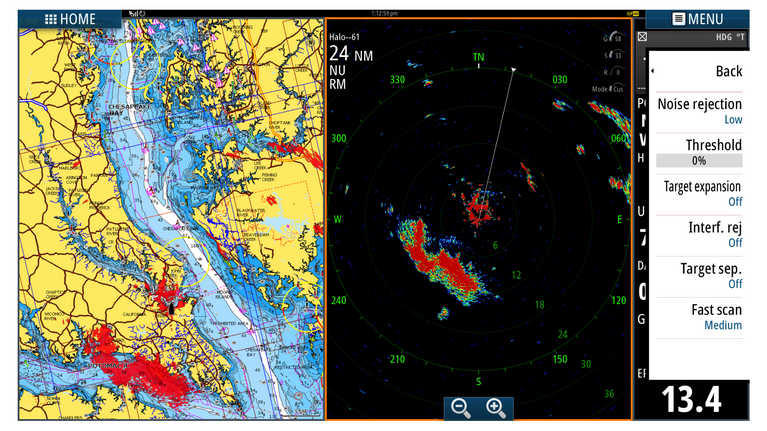 Dual Range
Monitor two ranges simultaneously on one screen: see nearby targets while monitoring the bigger picture, at ranges up to 48 nm.
Easy User Modes
Harbour, Offshore, Weather and Bird modes quickly optimise the radar settings to give you the information you need. Benefit from easy user modes that ensure the targets you need to see are vividly displayed.
InstantOn™
InstantOn™ - Ready instantly from low‑power standby mode.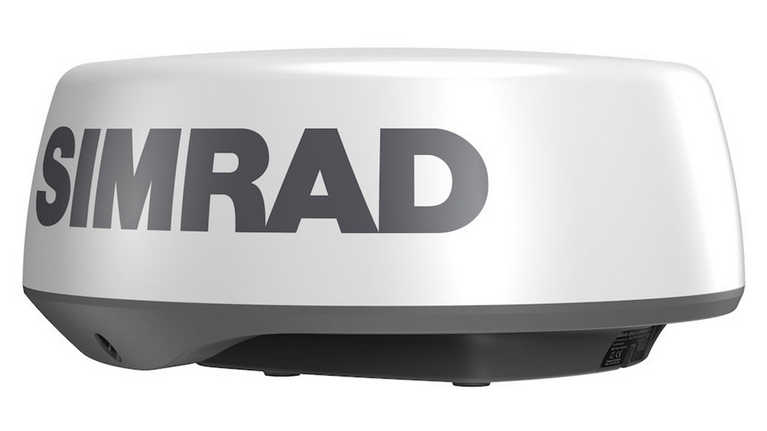 HALO™20 Radar
HALO20 radar systems are a great way to add pulse compression technology to smaller powerboats. See channel markers from right off the bow to storm cells 24 nautical miles away.
These compact dome radars are easy to install, have low power needs, and wake instantly from standby to give you radar coverage exactly when and where you need it.
Unrivalled Short‑to‑Mid‑Range Performance
Extend your view from the bow of your boat out to 24 nautical miles with pulse‑compression radar technology that not only delivers a powerful mix of short and long‑range detection, but provides precise target definition with minimal clutter.
Better Situational Awareness, Collision Avoidance
HALO20 radar delivers a comprehensive range of features to enhance your situational awareness and on‑water safety. Monitor selected collision hazards with MARPA target tracking, tracking up to 10 targets. Whether you're navigating through crowded waterways or contending with poor visibility, HALO20 radar cuts through the clutter to give you a clear and current picture of your surroundings.
Easy to Use
Harbour, Offshore and Weather modes tune HALO20 radar's advanced signal processing to help ensure that targets can be seen vividly – even in the toughest environmental conditions.
Ready When You Are
HALO20 radar wakes instantly from its low‑power standby mode, delivering high‑speed radar coverage exactly when and where you need it. Even if your HALO20 is completely powered down start‑up is a matter of seconds, not minutes like traditional pulse radar.
HALO Radar Comparison Chart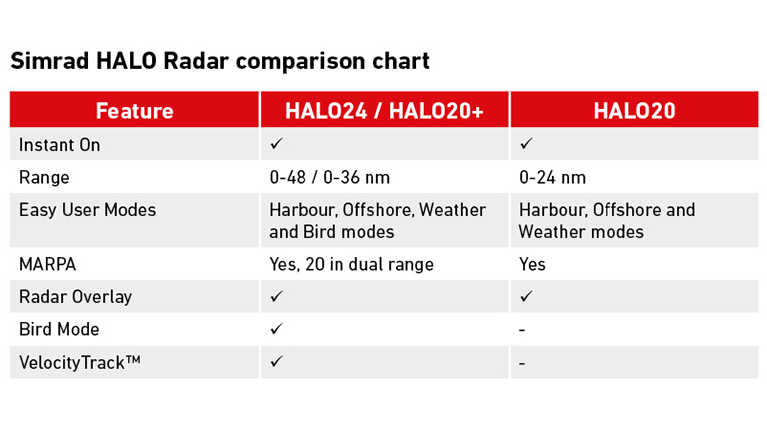 LEARN MORE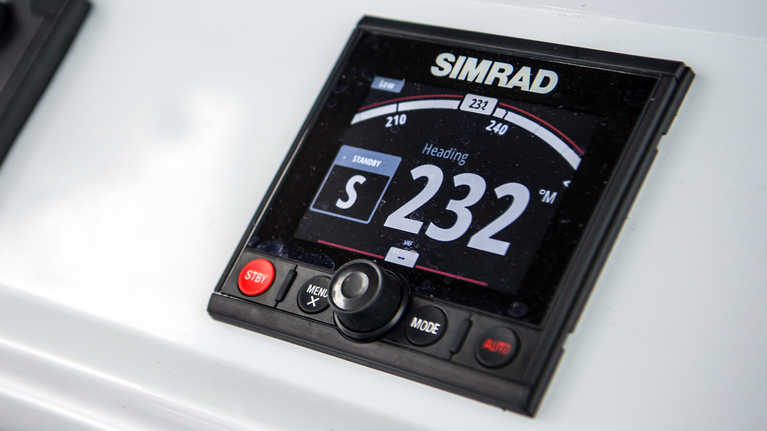 Autopilots
Accurate and reliable control over your heading without years of experience at the helm.
There are a number of components that make up an autopilot system, but if you approach it in the right order, it's straight forward. A lot of the choices are made for you based on the type of steering system you have on your boat.
Start by understanding what type of steering you have, then work through the drive selection process, this will in turn select the right computer for you and help you understand if you need a rudder feedback unit, then you can select the controller and any additional accessories you may need.
Autopilot Buyers Guide
The Autopilot Buyers Guide will help you through the process of selecting the right system for your vessel.
READ NOW
Autopilot Components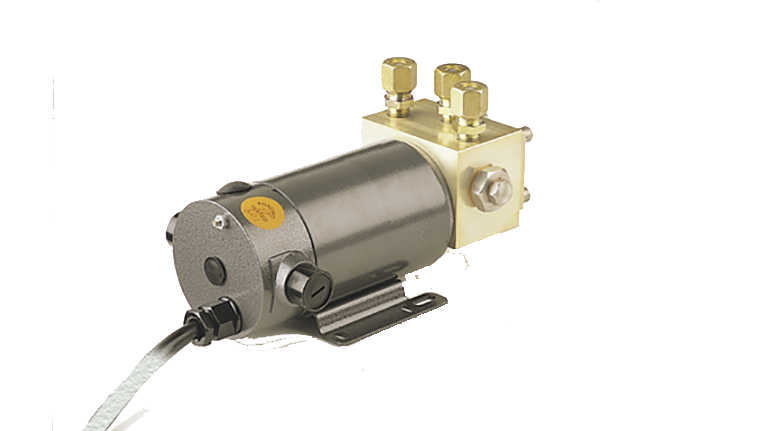 Drive Unit
An autopilot drive unit translates instructions from your autopilot system into movements of your rudder or outboard. The drive unit you'll need depends on the type of steering system you have and the size of your boat. Is your steering system hydraulic or mechanical?
Rudder Feedback Units
Rudder feedback units are small sensors that measure and report rudder position, enabling precise rudder control for smooth and accurate steering. On smaller boats, Virtual Rudder Feedback (VRF) eliminates the need to install a physical sensor by using a software‑based approach to calculate rudder position.
Compasses
Compasses: to set and hold a course, your autopilot needs to know your current heading. This is supplied by a position sensor – an electronic compass – below deck.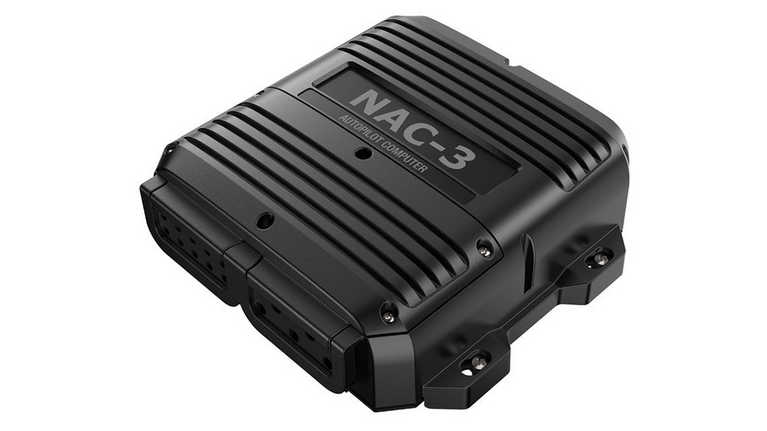 Autopilot Computer
An autopilot computer is the brains of your Simrad Continuum autopilot system. It continuously monitors data from compasses, rudder feedback units and other on‑board instruments, and steers to your chosen heading or course. An autopilot computer also includes the electronics required to operate your drive unit.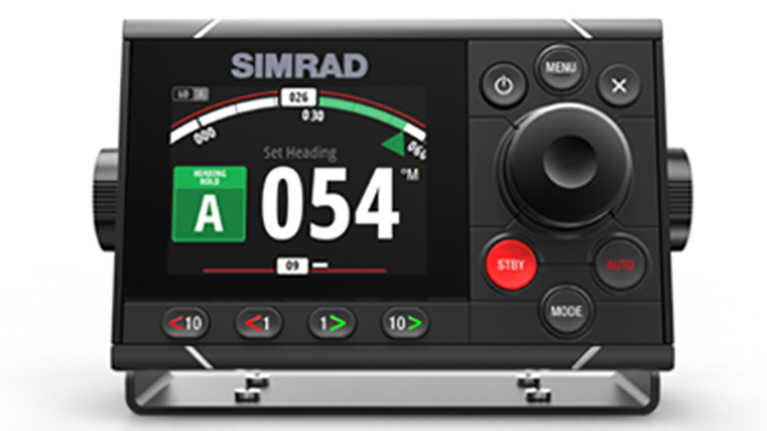 Autopilot Controllers
Controllers provide a status display and a hands‑on interface to your autopilot system, allowing you to set a course or use more advanced auto‑steering features. Choose from a dedicated controller or control your autopilot system using a Simrad multifunction display.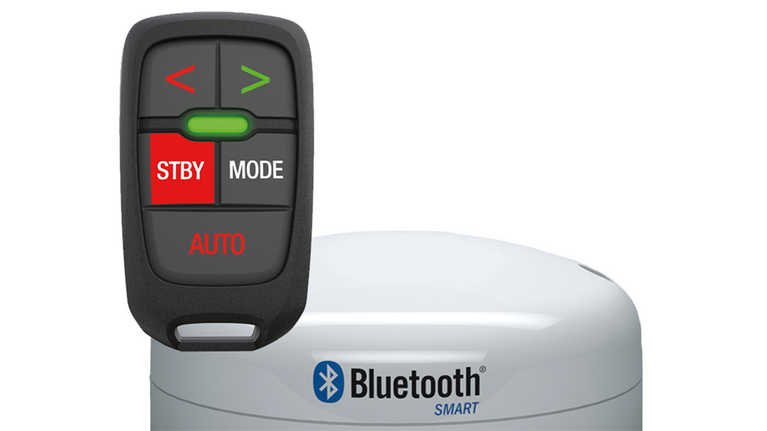 Autopilot Remotes
Our autopilot remotes can be combined with a multifunction display at the helm to add traditional hands‑on steering control, or mounted elsewhere aboard your vessel to provide autopilot heading control from a fly bridge or other convenient location.
Tillerpilots for Sailboats
Simrad TP10, TP22 and TP32 tillerpilots offer reliable, standalone performance for sailboats with tillers up to 37ft.
GET EXPERT ADVICE

Maintain water awareness
Marine VHF Radios and AIS
Marine VHF Radios and AIS, Instruments, Entertainment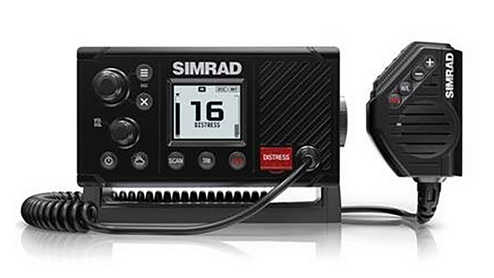 Marine VHF Radios and AIS
Maintain water awareness with Simrad VHF radio and AIS technology on your boat.
Safety on the water
Whether fixed mounted or handheld, VHF radios are one of the most important communication and safety devices for boaters. From simple vessel‑to‑vessel or vessel‑to‑shore communications to calling out or responding to on‑the‑water emergencies, VHF radios deliver peace of mind while on the water.
Stay safe and connected with Class D DSC approved VHF Radios featuring built‑in GPS.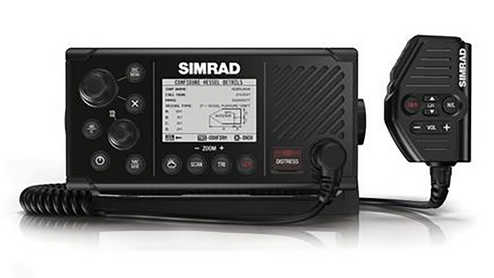 RS40-B VHF Radio and AIS
Fixed-mount DSC VHF Radio with integrated AIS transmitter and receiver, GPS, and wireless handset support.
The RS40-B includes a Class B AIS transceiver, which not only receives AIS targets but also transmits your boat's position to nearby AIS‑equipped vessels.
A built‑in AIS receiver monitors the position of other AIS‑equipped vessels, helping you to proactively avoid collisions in crowded harbours and waterways.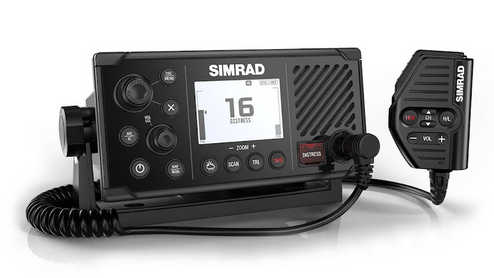 RS40 VHF Radio and AIS
Fixed-mount DSC VHF Radio with integrated AIS receiver, GPS, and wireless handset support.
A built-in AIS receiver monitors the position of other AIS‑equipped vessels, helping you to proactively avoid collisions in crowded harbours and waterways.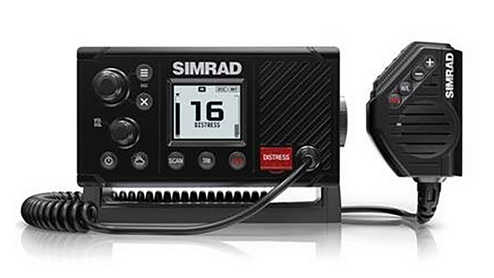 RS20S VHF Radio with GPS
Stay safe and in touch with this dependable Class D DSC approved VHF radio featuring an integrated GPS receiver. The versatile RS20S is ideal for a variety of boats from small RIBs to larger cruisers, and is designed to match the low‑profile style of our glass‑bridge displays and accessories.
An Easy to Use Radio for Any Vessel
See clearly in bright daylight with a high contrast black‑on‑white display, and inverted white‑on‑black night mode. A rotary dial makes channel selection easy, while large buttons provide quick access to other key functions. Dedicated Channel 16 keys, found on both the radio and its fist microphone, offer instant access to the emergency channel. An included gimbal bracket enables simple table‑top, overhead, or bulkhead installation. Flush‑mount installation is also possible, with an easy mount‑from‑front solution, to match the low‑profile style of our glass‑bridge displays and accessories.
Class D DSC Approved
DSC, or "Digital Selective Calling", makes it easier to stay in touch with other boaters and enables you to broadcast your boat's location during an emergency. If you find yourself in trouble, the RS20S's dedicated "distress" button will initiate a DSC distress call that sends your boat's position to anyone within VHF range. Used together with a traditional radio distress call, this makes it easier for other boaters with DSC‑capable radios to register your situation and come to your aid. An integrated GPS receiver means your position can be sent even if your boat's other electronics are powered down.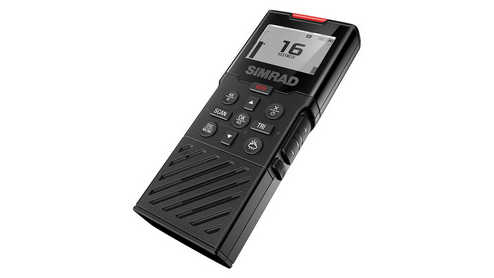 HS40 Wireless Handset
Take remote control of your Simrad RS40 VHF radio, and enjoy the power of a fixed‑mount system with the convenience of a handheld. Easily carried and simple to use, this wireless handset gives you total freedom of movement on board your boat.
Communicate Anywhere On Board
With a range of up to 100 metres, the HS40 offers complete coverage aboard even the largest powerboats. One or more HS40 handsets and the RS40 base station can also be used together as an on‑board intercom system, enabling clear communication between crew members vessel‑wide.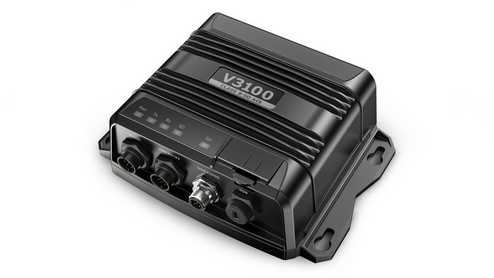 AIS Transponders
Reduce your risk of collision with Class‑B AIS transponders.
Essential for navigating busy shipping lanes and congested ports.
Networks easily with any GO, NSS or NSO display and Simrad RS VHF system.
V3100 Class B AIS
The V3100 Class B AIS incorporates SOTDMA technology and increased transmission power to enhance transmission frequency, reliability, and range compared to standard Class B AIS. This 'black‑box' solution integrates with Simrad displays, and features industry‑standard connectivity.
NAIS-500
Reduce your risk of collision with this fully integrated, Class‑B AIS transponder - essential for navigating today's busy shipping lanes and congested ports. Compact in size, lightweight, fully waterproof, with low power draw and featuring multiple connections, the NAIS 500 is ideal for networking with any NSS, NSO, or GO series chartplotter / multifunction display and Simrad RS VHF system.
LEARN MORE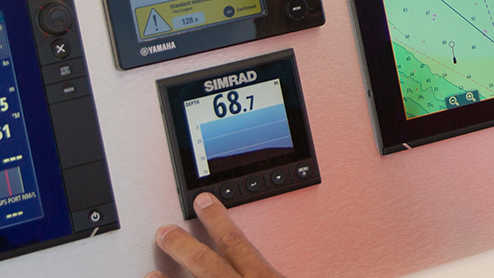 Instruments
Critical Information at a Glance
Boat instruments and gauges are critical for real‑time displays of important engine and watercraft information. Simrad multifunction displays allow full customization of key, on‑screen gauges. By making simple edits with the multi‑touch display, you can select the most vital boat information from any NMEA 2000®‑connected devices aboard. These include RPMs, speed over ground, fuel level, trim tab, oil pressure, engine hours, fuel flow, fuel economy and temperature. You can easily create your own pages using analogue‑style gauges, bar graphs and digital displays to suit your preference.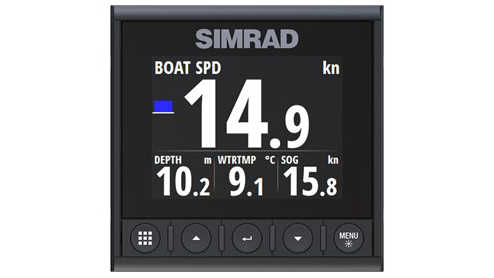 Sleek Look and Economic Power Draw
The Simrad IS35 and IS42 feature modern glass helm styling are flush mount to compliment your helm. Displaying vital information on clear and bright screens, the units are easy to use and easier to install using industry standard NMEA 2000® connections. The IS35 and IS42 also draw minimal power, saving your boat's batteries.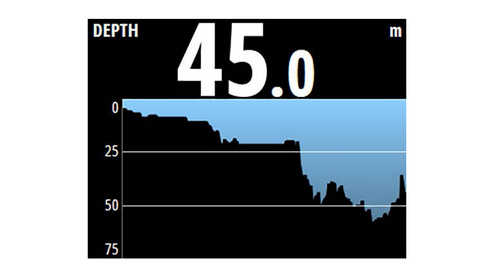 Integration with Simrad Multi‑function Displays
When networked with an NMEA 2000 depth transducer, or multifunction display with built‑in echosounder, the IS35 Digital Gauge can show a graphical depth history, with digital displays of current depth and water temperature. The IS42 Color Instrument Display integrates with Simrad multifunction displays and glass‑bridge systems or function as a standalone instrument display and autopilot controller aboard smaller vessels.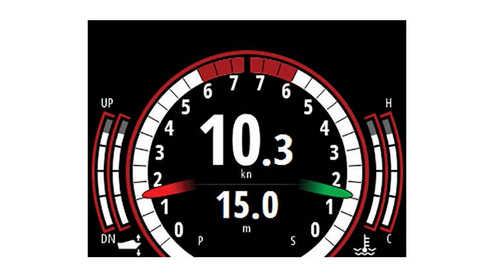 IS42J Digital Gauge
The IS42J offers customisable views of engine status and performance data, for up to two J1939 diesel engines. View engine speed, load, pressures, temperatures, alerts (including diagnostic trouble codes), and other key data on one clear graphical display. The IS42J is simple to install, with one cable to each of your engines and a single connection to your boat's DC power supply. With a dual‑engine J1939 gateway built in, there are no separate "black‑box" components to install.
LEARN MORE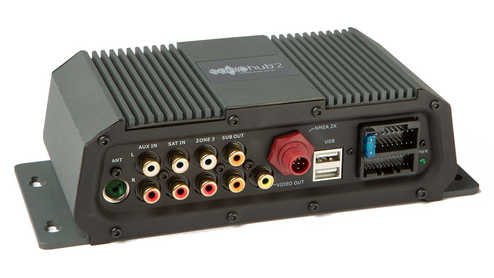 Entertainment
SonicHub®2 Audio
Great music doesn't have to stay on shore thanks to Simrad music streaming capabilities. Integrated Bluetooth® of the Simrad SonicHub2 Module allows streaming of music from your smartphone or tablet. The system also has an integrated AM/FM antenna and supports playback from a USB drive.
A 50W x 4 amplifier with Dual USB ports, video ouput via Composite RCA, pre‑amp Zone 3 and sub‑woofer outputs, Dual Stereo AUX input.
All with full control from your Simrad multi‑function display.
More Audio Options
Simrad multi-function displays use the latest industry standard NMEA 2000 connectivity for compatibility with the JL Audio marine MediaMaster audio unit, offering outstanding music audio in an integrated system to compliment on‑board entertainment needs. The waterproof unit provides Bluetooth streaming from compatible devices and features an AM/FM tuner with NOAA weather band capabilities.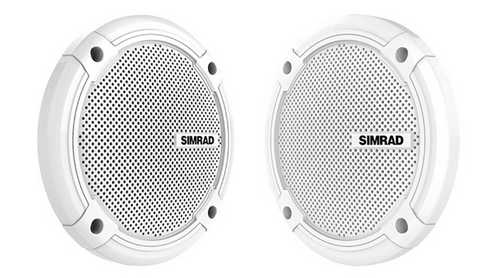 Simrad 6.5" Marine Loudspeakers
Simrad marine speakers are the perfect companion to your SonicHub2 entertainment system. Each 200‑Watt, 2‑way speaker features water resistant construction suitable for on‑water use. This pack includes two speakers, mounting hardware, and speaker connection cable.
Complete your SonicHub2 System
These water‑resistant speakers are designed for use with the built‑in amplifier on your SonicHub2 marine entertainment system. This pack includes one pair of 200‑Watt speakers, mounting hardware, and speaker connection cable. Up to two pairs can be used with a single SonicHub2 module, each in its own "zone" with an independent volume control.
2-Way Speakers
In addition to the main element, Simrad marine speakers feature an integrated 25.4 mm (one‑inch) Mylar dome tweeter for great high‑frequency response. Both elements are encased behind a single removable water‑resistant grill.
Water Resistant
Regular speakers aren't designed to withstand on‑water conditions, particularly in outside installations. These water‑resistant speakers are the perfect companion to your SonicHub2 system, letting you enjoy your boating soundtrack in any conditions.
LEARN MORE
Sonar and Transducers
Locate and see fish, structure and bottom contours more clearly with a variety of transducers and sonar options all designed to help you find more fish.
CHIRP Sonar is a powerful bottom‑tracking and fish‑finding tool, offering substantially less noise and greater target separation to discern individual baitfish within a school or see multiple closely‑spaced game fish.
Sonar Imaging, see near picture‑like images of the seafloor for the ultimate view in identifying fish‑holding structure.
From all‑in‑one TotalScan technology to the three‑dimensional images of StructureScan® 3D, we offer something for every angler, on any budget.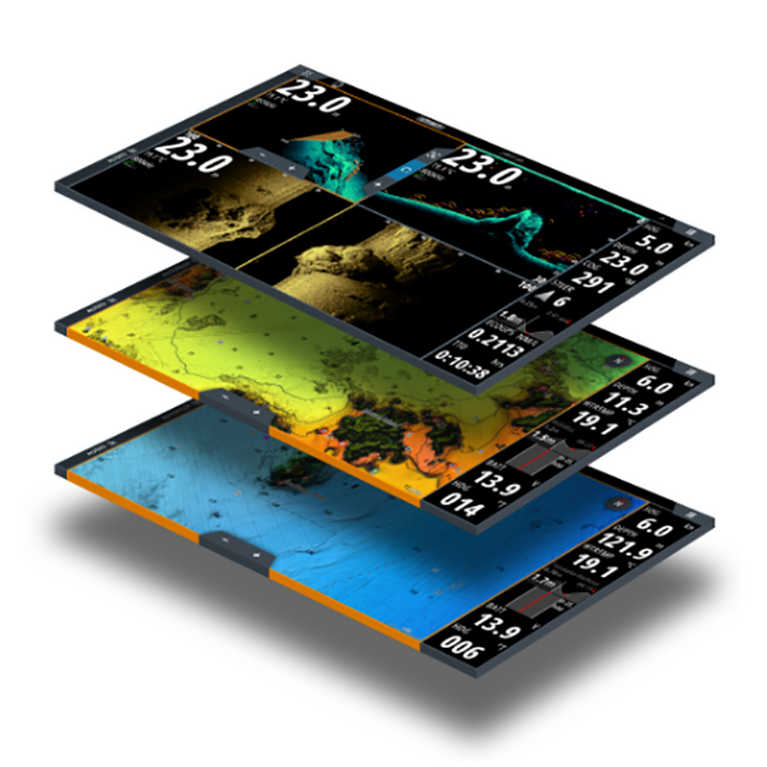 SonarHub Sounder Module combines StructureScan HD imaging and CHIRP sonar. SonarHub is ideal for marking fish and tracking lure action and can provide easy to understand views of structure and bottom detail.
TotalScan transducer combines broadband and CHIRP sonar with StructureScan HD and DownScan imaging technology.
Active Imaging™ sonar combines CHIRP, SideScan and DownScan in a single transducer. Perfect for pinpointing fish holding areas like rock piles, standing timer, weed‑beds, ditches and drop‑offs.

StructureScan® 3D

imaging scans underwater terrain and fish holding structure to create a high resolution, 180 degree, 3D view beneath your vessel.
Award-winning ForwardScan® sonar offers a safer cruising experience with a clear view of the bottom ahead.
YOUR CHOICE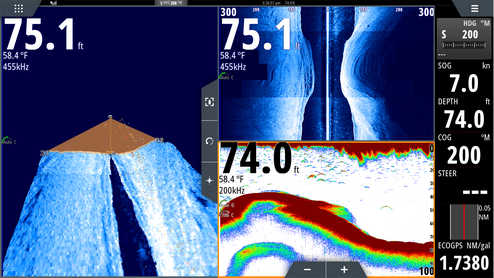 Active Imaging
See structure and cover with a new level of refined detail and at a range unmatched by any other structure imaging technology. The high‑level clarity, target separation and detail will help you find more fish by making it easier to quickly identify fish‑holding structure like rock piles, standing timber, weed beds, ditches and drop‑offs – all at a greater distance from your boat.
Get the best of CHIRP sonar and DownScan on one screen with the exclusive FishReveal™ Smart Target view that helps you easily recognize fish from structure and cover on high‑detailed DownScan images.
Available in 3‑in‑1 (CHIRP, SideScan and DownScan) and 2‑in‑1 (SideScan and DownScan) transducers.
LEARN MORE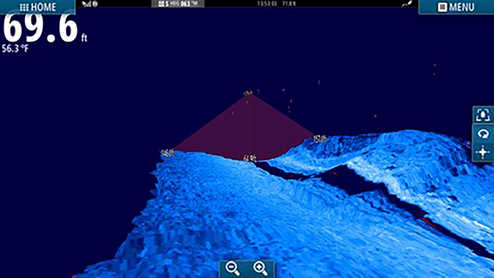 StructureScan® 3D
StructureScan 3D imaging scans underwater terrain and fish‑holding structure to create a high‑resolution, three‑dimensional view beneath the water. The view offered is like a virtual underwater camera and show where features lie in relation to your vessel.
Provides multiple viewing options including boosted Down Imaging and Side Imaging, 2D StructureScan HD with more detail, and the new revolutionary three‑dimensional views.
Features such as ScanTrack, Leading Edge, SelectScan, Vertical Depth Enhancement and 3D Waypoint Overlay make fish finding even easier.
With this unique 3D imaging view, anglers gain a better understanding of where fish and structure are located.
LEARN MORE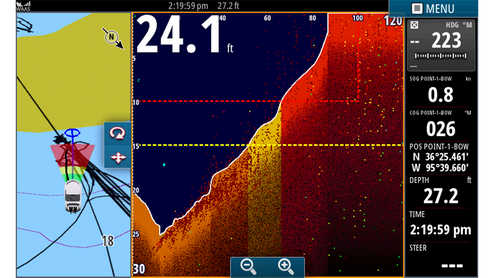 ForwardScan® Sonar
Know what lies ahead with Simrad ForwardScan.
The forward-looking sonar provides a clear two‑dimensional image of the bottom in front of your vessel, allowing you to navigate shallow or poorly‑charted waters with confidence.
With real-time updates and a forward‑looking view of up to eight times your current depth, ForwardScan lets you relax and enjoy a safer day on the water.
LEARN MORE

Equipping the Pros since 1946
The gear you run makes all the difference
Powerboat, Sportfishing & Runabout Systems. About Simrad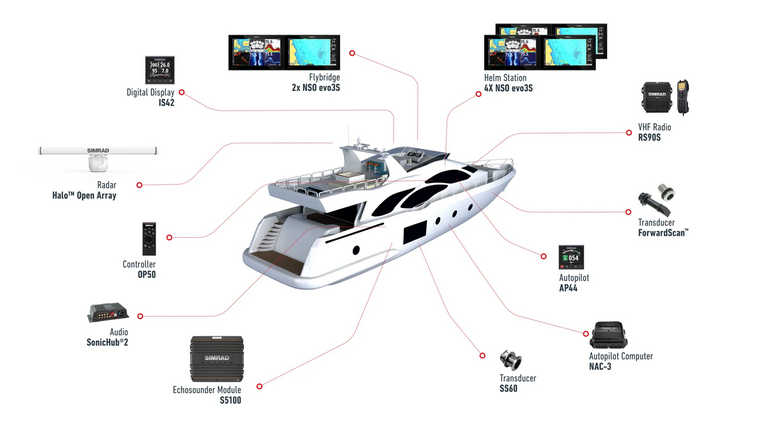 Powerboat, Sportfishing & Runabout Systems
For 70 years innovating on the seas from pioneering work in marine radio and autopilot to revolutionary advances in radar, Simrad solutions enable powerboating and sportfishing enthusiasts to travel safer, journey further and tackle the most elusive offshore game.
Powerboat Systems
Simrad NSO evo3S displays and Glass‑Bridge Navigation Systems place you in complete control of your cruising experience. Navigate confidently and safely with ForwardScan sonar and a range of radar solutions. Autopilot frees you from the wheel while you listen to your own soundtrack with the fully integrated SonicHub2 entertainment system.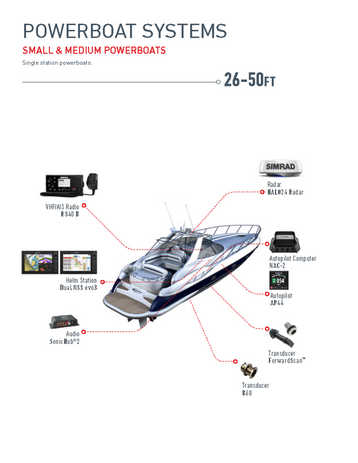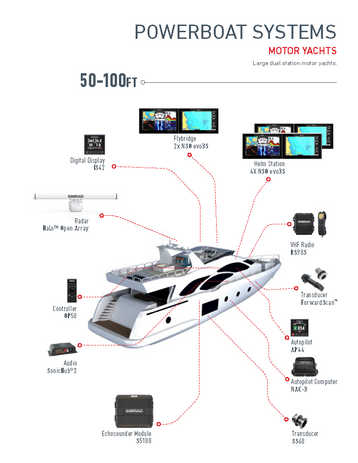 Sportfishing Systems
Customisable Simrad NSS evo3S technology lets you create the perfect sportfishing system. Whether you are drifting over deep sea spots or trawling for big game there's a sonar solution that will help you see more and target better. The bird finding feature on Halo radars will help you find fish.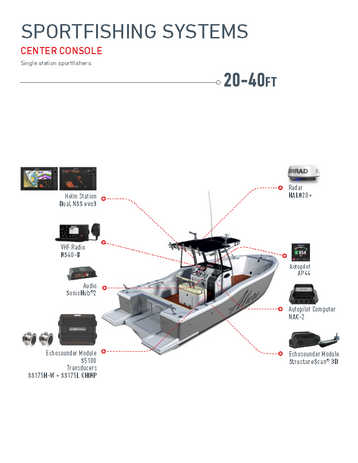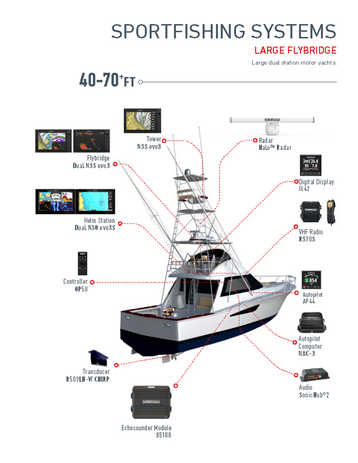 Runabout Systems
Award winning Simrad GO chartplotter navigation displays suit runabouts of all types. These displays pair comprehensive navigation tools with a wide range of built‑in cruising and fish finding sonar technology. Includes industry standard connectivity and support for compact and low power Simrad radar systems. Its easy to integrate and accessorise to suit your needs.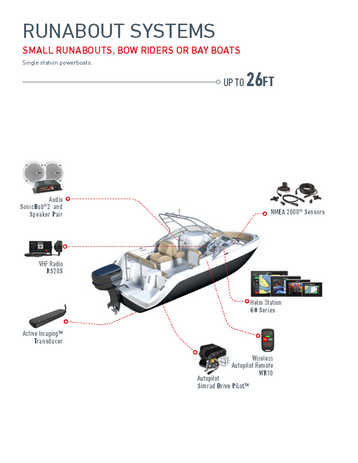 Visit the best value professionals for expert advice on all Simrad systems.
GET DIRECTIONS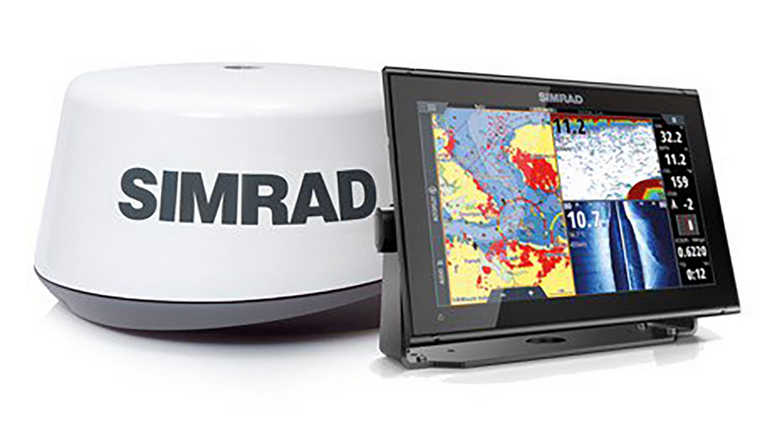 About Simrad
Leading for more than 70 years, Simrad is a specialist marine electronics company providing navigation, marine instruments and fishfinding equipment to both the recreational and commercial marine sectors.
Glass-bridge navigation systems
Multi-function displays, Fishfinders, GPS Chartplotters
Sonar and Transducers
Radar and Autopilots
Marine VHF Radio and AIS
Instrumentation
Audio Entertainment
Out on the water, the gear you run could make all the difference between uncertainty and confidence. With strong commitments to quality and reliability, as evidenced by a broad portfolio of industry awards, Simrad will get you there like no one else. In addition to delivering equipment you can rely on, Simrad are also committed to delivering the most forward‑thinking and practically‑designed equipment on the market.
From the TouchSensible and multi‑touch technology, which delivers the perfect hybrid of glass‑bridge touchscreen display and all‑weather conventional controls, to the award‑winning HALO Radar and StructureScan™ 3D sonar imaging, Simrad give you the latest technology to let you get the most out of your time on the water.
The marine electronics brand for powerboats and sportfishing since 1946, Simrad is synonymous with professional level products for the everyday boater and power enthusiast. The product range covers recreational vessels of all sizes, from small runabouts and sportfishing vessels up to luxury cruisers and superyachts, they all have one thing in common – the need to go out on the water with confidence whether cruising on a lake or heading out to open seas.
About Simrad Commercial Series
Over the past 60 years Simrad has developed systems for the benefit of commercial vessels. Today they offer a range of sophisticated auto steering, navigation and safety products for vessels of all sizes, from small vessels on inland waterways to larger coastal commercial and passenger craft.
The Commercial Series offers equipment for search and rescue/patrol boats, workboats, commercial fishing boats, passenger vessels, superyachts and short sea/cargo vessels.
Expert Installation, More Information
Expert Installation
Evolution Marine can advise you on a Simrad marine electronics solution to suit your requirements and boat.
Simrad System Builder helps us build the ideal configuration for your boat.
Our expert installation service will ensure many years of trouble free boating. Browse our photos.
More Information
For more information visit the Simrad website, read the 2020 Catalogue and Autopilot Guide, watch GO Series or NSS evo3 videos, visit Facebook or browse YouTube videos.
Visit Evolution Marine for expert advice and pickup a Simrad catalogue.
VISIT NOW